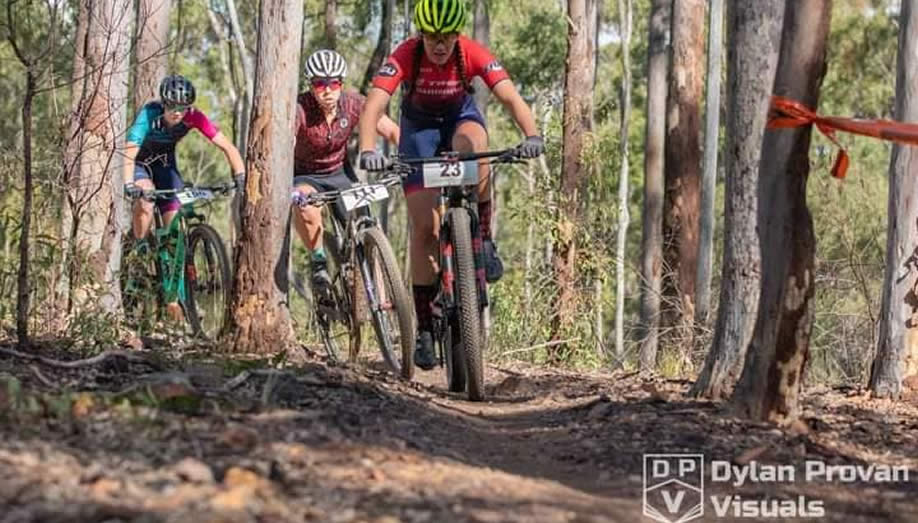 The weekend of the 8-9 August saw the first round of the SE QLD MTB series go to Wondai for the first time.
Friday afternoon was wet and windy in the Burnett region which helped settle the dust and create hero dirt ahead of some super-fast XCC (Short course) action on Saturday and XCO on Sunday.
Arriving on Friday afternoon for a quick look at the course Hayley headed out with some of the locals for some sighting laps. Arriving back in the carpark a while later was a somewhat muddy but super smiling Hayley raving about the 2 courses.
Saturday afternoon arrived and the XCC racing kicked off with some super-fast racing in all categories from u11 through to elites. All women u15 and over raced in together with Hayley lining up with the likes of Anna Beck (elite), Holly Lubcke (u19) and South Burnett MTB Club local star Luca Turton (u17). The girls took off at a blistering pace with Hayley leading into the first corner, and she didn't relinquish her lead. She crossed in a sprint finish with Anna Beck and Holly rounding out the podium.
XCO on Sunday saw the women's categories split with u15, u17 and all female masters to race together.
Hayley lead out from the start and proceeded to put in three quick and consistent laps of the 6.8km course and took out the win.
The South Burnett MTB Club hosted an exceptional event (great people, racing, atmosphere, and food!) and highlighted the many positives in their region.
For more photos of the event check out Dylan Provan Visuals
Written report by Louise Oakes